Best Home Deals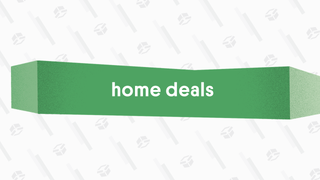 Best Home Deals
The best home, kitchen, smart home, and automotive deals from around the web, updated daily.
Featured Deal: Dyson V7 Fluffy | $200 | Newegg
The best Dyson deals on vacuums and air purifiers for January 2021 are here.
Let's be honest: the name "Dyson" might emit a scream from your wallet or handbag, as the company's high-end products usually don't come cheap. But you don't have to settle for imitators.
Right now, many of Dyson's top cord-free vacuums are on sale, including big discounts on factory-refurbished and warrantied models, plus you'll find bargains on Dyson's other products: like lamps and hair dryers. Scope out the deals below!
Need a powerful vacuum that excels at sucking but doesn't, you know, suck? The lightweight Dyson V7 Fluffy ought to do the trick, particularly if you have hardwood floors.
It can give you up to 30 minutes of standard vacuuming, or you can switch on the motorized head for about six minutes of super-sucking. It charges via a wall mount so it's always ready when you need it, and you can eject the pipe and use it as a compact handheld vacuum in a pinch. It's $100 off right now from Newegg.
G/O Media may get a commission
Use promo code 4NWYHYU84 at checkout
The cordless Dyson V11 Animal vacuum is tough on pet hair. With five interchangeable add-ons, this vacuum can be molded into whatever you need it to be, whatever corner of your home you're trying to make hair-free. Use promo code 4NWYHYU84 to save $50 off a refurbished model at Newegg.
Need to suck up a mess in a hurry? The Dyson V7 Trigger handheld vacuum is a compact model that's ideal for cleaning up messes in the car or in smaller, hard-to-reach areas. This cordless model will give you 30 minutes of full power when charged, and it's $20 off the list price at Abt Electronics right now.
Clean the air while you clear dust using Dyson's V7 Allergy cord-free stick vacuum. It looks a lot like the other V7 models, but has the benefit of a whole-machine HEPA filter built in.
It'll capture allergens and pump out cleaner air while you vacuum. The V7 Allergy has the same 30-minute run time on a full charge, and up to six minutes on MAX mode for deeper suction. It's $15 off right now at Amazon.
This versatile Dyson Cyclone V10 Motorhead vacuum is cordless, chargeable, and ready to deal with whatever you've spilled on multiple surfaces, from carpet to hardwood.
People love this model for its wall mounting dock and ability to shift into a handheld vacuum for small spaces. You can snag it for $65 off the list price right now from Dyson.
Can you imagine the immense power of a Dyson vacuum in reverse… and blowing against your head? That's the promise of the Dyson Supersonic hair dryer.
Dyson's hair products aren't cheap, with perhaps even more sticker shock than with the vacuums, but right now Newegg has a refurbished version of the black model for just $280.
If you have pets, you have filth — whether you can see it all or not. Luckily, that's what the Dyson Cyclone V10 Animal is for. It's built to suck animal fur out of carpets and can last up to 35 minutes with the Torque drive cleaner head (or 60 minutes without). Save $50 at Amazon right now.
A bigger model than most Dyson vacuums, this multi-use machine is powerful. Promising to tackle dirt and allergens, accessories like a reach wand allow you to clean high molding and even ceiling cobwebs.
Its high-speed action and collection of bristles mean you can clean carpet, tile, or hardwood. You can snag it for $110 off the list price right now.
Dyson's design savvy comes to hair straighteners with the Corrale, a sleek little number that uses flexing plates to "shape around your hair" with less heat, thus causing less damage in the process. It has a charging dock that provides the device with 30 minutes of cordless usage, or you can plug it in if you need to go longer. Save $30 at Walmart right now.
A $700 lamp? That's madness, right? Well, that's Dyson: high-end design at a high-end price. Besides, that's the price after a $200 discount direct from the maker, at least in the black version.
What makes it unique aside from the look? Well, the Dyson Lightcycle Floor automatically tracks color temperature and brightness of your surrounding daylight to adjust the output, and has a half-dozen LEDs aided by heat pipe technology to last upwards of 60 years. Meanwhile, the 3 Axis Glide system lets you intricately position the lamp and trust that it'll stay put.
It's still a $700 lamp, mind you, but damn it's a cool lamp.
---